Public funded research projects at IAVT/ZmP

Project title
Thermography based quality control for high dynamic assembly processes in power electronics
Project leader at IAVT/ZmP
Project period
01/2018 - 12/2019
Project partners
budatec GmbH, Berlin
Fraunhofer IKTS, Dresden
LFG-Eckhard Oertel e.K., Gera
Via Electronic GmbH, Hermsdorf
The project pursues the goal to improve the quality of area interconnects of power electronic modules by process integrated inspection and therefor to enhance the long-term reliability of such modules. To realize that, ceramic heating elements with high focused heating power and integrated cooling structures will be developed. A matrix of those heating-cooling elements allows an area-resolved induction of thermal energy. In addition the high dynamic behavior of the heaters allows a dedicated area- and time-resolved stimulation of the module for thermal inspection of interconnects.

Project title
Electronics and ICT as enabler for digital industry and optimized supply chain management covering the entire product lifecycle
Project leader at IAVT/ZmP
Scientific coordination
Dipl.-Math.
Dirk Schloß
Phone:
(0351) 463 31696
Project period
05/2017 - 04/2020
Project partners
Infineon Technologies Dresden and many other partners from 19 EU countries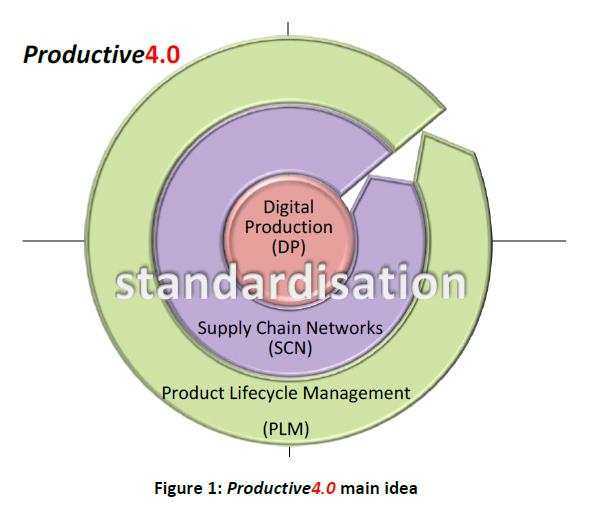 The main objective of Productive4.0 is to achieve significant improvement in digitalising the European industry by means of electronics and ICT. Ultimately, the project aims at suitability for everyday application across all industrial sectors – up to TRL8. It addresses various industrial domains with one single approach, that of digitalisation.
What makes the project unique is the holistic system approach of consistently focusing on the three main pillars: digital production, supply chain networks and product lifecycle management.
This is part of the new concept of introducing seamless automation and network solutions as well as enhancing the transparency of data, their consistence, flexibility and overall efficiency. Currently, such a complex project can only be realised in ECSEL.
The well balanced consortium consists of 45% AENEAS, 30% ARTEMIS-IA and 25% EPOSS partners, thus bringing together all ECSEL communities. Representing over 100 relevant partners from 19 EU-member states and associated countries, it is a European project, indeed.

Project title
Auswirkungen von Verwindungen und Wölbungen während des Lötens auf die Qualität und Zuverlässigkeit von Lötstellen
Project leader at IAVT/ZmP
Dr.-Ing. habil.
Heinz Wohlrabe
Phone:
(0351) 463 35479
Scientific coordination
MSc.
Oliver Albrecht
Phone:
(0351) 463 36408
Project period
04/2017 - 03/2019
Project partners
Projektbegleitender Ausschuss: Balver Zinn Josef Jost GmbH & Co.KG; Christian Koenen GmbH High Tech Stencils; Danfoss Silicon Power GmbH; DHD Deubner Hoffmann Digital GmbH Leipzig; G&W Leiterplatten Dresden GmbH & Co. KG; Hella KGaA Hueck & Co; Hensoldt; Heraeus Materials Technology GmbH & Co.KG; Microtronic Microelectronic Vertriebs GmbH; Miele & Cie. KG; Robert Bosch GmbH; Seho Systems GmbH; Sensitec GmbH; Texas Instruments Deutschland GmbH; Trainalytics;Zollner Elektronik AG

Im SMT-Prozess erwartet man, dass die zu verarbeitenden Komponenten immer eben (bzw. unverbogen) sind. In der Realität treten aber Verwindungen und Wölbungen auf. Standards (z.B. IPC TM 650) geben Maximalwerte für diese Verbiegungen an, die aber nur für Raumtemperatur gelten. Für das Löten gibt es keine speziellen Grenzwerte. Am Institut steht mit dem TherMoiré® System eine Messausrüstung zur Verfügung, mit der man unter angenäherten Lötbedingungen die Verbiegungen von Bauelementen und Leiterplatten messen kann. Die zahlreich vorhandenen Messergebnisse zeigen, dass bei vielen Bauelementen und Leiterplatten erhebliche Verbiegungen nur während des Lötens auftreten, die mit real auftretenden Qualitäts- (z.B. Head in Pillow bei BGA) und Zuverlässigkeitsproblemen (z.B. Padabrissen) korrelieren.
Im Projekt werden Messungen an verschiedenen Bauelementen und Leiterplatten durchgeführt, deren Ergebnisse in eine Verbiegungsdatenbank einfließen. Es werden Testboards mit gezielt einstellbarem Verbiegungsverhalten konstruiert. In Experimenten werden die Einflüsse von solchen Verbiegungen auf die Qualität und die Zuverlässigkeit ermittelt. Die Zuverlässigkeitsanalysen werden durch FE-Simulationen ergänzt.
Als Endergebnis ergeben sich Empfehlungen für präzisere Grenzwerte von Verwindungen und Wölbungen, die in Standards einfließen können. Es wird dadurch möglich, qualitätskritische Komponenten zu identifizieren und Maßnahmen (notwendige Messungen, Änderungen der Konstruktion und der Materialauswahl) abzuleiten. Als Effekte können signifikante Fehlerquotensenkungen und Verbesserungen der Zuverlässigkeit von elektronischen Baugruppen erwartet werden.
Project title
Miniaturised High Voltage Power Supply for the Integration in Laser Systems
Project leader at IAVT/ZmP
Scientific coordination
Dr.-Ing.
Karsten Meier
Phone:
(0351) 463 36594
Project period
04/2017 - 09/2019
Project partners
TU Berlin - Forschungsschwerpunkt Technologien der Mikroperipherik
Tigris Elektronik GmbH
LFG - Eckhard Oertel e. K.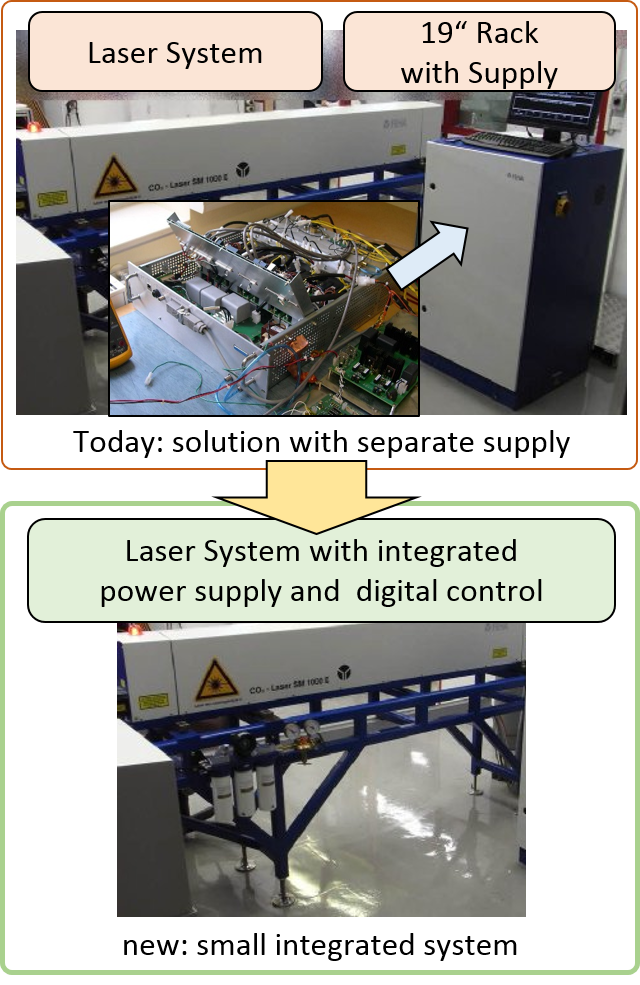 The KoHLa project (miniaturised high voltage power supply for the integration in laser systems) aims for the miniaturisation and integration of a high voltage power supply used for a CO2 laser system. The power supply is a 19" rack solution as of today. A significant reduction of the size and the system integration of the power supply, innovation of electrical functionality and substrate technologies as well as new cooling approaches are focus of the project.
Using the PowerBoard technology (organic substrates with thick and structured copper trace layers) as a starting point and developing new organic-ceramic composite substrates a novel power electronics device will be developed. Replacement of recent cooling approaches, integration of analog power and digital control systems, usage of standard low cost materials and components, and the miniaturisation and system integration will be realised. Finally, a demonstrator will be manufactured showing the functionality of the power supply based on the novel technological approaches of thick copper based and organic-ceramic composite substrates.
Project title
Auf flexibler Elektronik und Optik basierendes tragbares Gerät zur in vivo Spektrometrie von Blutbestandteilen für die Telemedizin
Project leader at IAVT/ZmP
Project period
12/2016 - 12/2019
Project partners
Institut für Biomedizinische Technik der TU Dresden
Anvajo GmbH
Die Technische Universität Dresden (TUD) und die Anvajo GmbH, eine studentische Ausgründung der TUD, führen gemeinsam das Telemedizin-Projekt »FlexEO - Auf flexibler Elektronik und Optik basierendes tragbares Gerät zur in vivo Spektrometrie von Blutbestandteilen für die Telemedizin« durch.
Ein tragbares Gerät wird entwickelt, das außerklinisch und nicht-invasiv Blutbestandteile und Parameter des Herz-Kreislauf-Systems analysieren kann. Das Kernstück der nicht-invasiven Messung wurde in den letzten drei Jahren am Institut für Aufbau- und Verbindungstechnik der Elektronik (IAVT) der Fakultät Elektrotechnik und Informationstechnik (EuI) entwickelt: ein optisches Mikrospektrometer, mit dessen Hilfe Licht in seine spektralen Bestandteile zerlegt und analysiert werden kann. Dieses Mikrospektrometer ist so klein, dass es leicht in einen Fingerclip oder ein tragbares Gerät integriert werden kann.
Das Mikrospektrometer soll in ein tragbares Gerät eingebettet werden, welches teilweise auf flexibler Elektronik basiert. Die Wissenschaftler/innen am IAVT der TUD werden dieses Gerät entwerfen. Aufgrund der flexiblen Elektronik werden sich die Sensoren des Gerätes an die Anatomie des Trägers anpassen können. Somit werden die verschiedenen Sensoren im Gerät optimal zur Körperoberfläche hin ausgerichtet. Das wird zu einer deutlichen Verbesserung der Messqualität im Vergleich zu herkömmlichen Methoden führen. Neuartige Algorithmen sollen außerdem den pulsierenden Blutanteil im menschlichen Gewebe berücksichtigen. So sollen bisher nicht messbare Blutbestandteile nicht-invasiv bestimmt werden können. Die dafür benötigte Software wird im Rahmen des Projekts am Institut für Biomedizinische Technik der Fakultät EuI entwickelt.
Mit Hilfe des Gerätes und dessen neuer Messtechnik sollen konventionelle Messmethoden qualitativ entscheidend verbessert werden, um eine flächendeckende, telemedizinische Überwachung und Versorgung von chronisch erkrankten Menschen (wie z.B. Patienten mit obstruktiven-Schlafapnoe-Syndrom oder Diabetes Mellitus) im häuslichen Umfeld zu ermöglichen.
Die Projektlaufzeit von FlexEO umfasst insgesamt drei Jahre; im Dezember 2019 soll das Projekt abgeschlossen werden.

Project title
Active low-loss magnetic bearings with high stiffness and precision with integrated magnetic flux measurement and fast power electronic, phase II
Project leader at IAVT/ZmP
Scientific coordination
Dipl.-Ing.
Daniel Ernst
Phone:
(0351) 463 36941
Project period
06/2016 - 05/2018
Project partners
Chair of Electrical Engines and Drives of the Institute of Power Engineering of TU Dresden
Institute of Integrative Nanosciences of Leibniz Institute for Solid State and Materials Research Dresden
Based on the results of phase I of the DFG project and in addition to the work packages of the partners IAVT is emphasized on the development of packaging technologies for ultra thin flux sensors for magnetic fields orthogonal to the sensors plane. The complete sensor package shall have a maximum height of 150 µm including substrate, interconnection, housing and adhesive layer. Long term stability of about more than 10 years is mandatory and has to be approved by accelerated aging tests.

Project title
Development of the basics for a fast thermography camera with few pixels for cost-effective inspection of area solder or sinter joints for power electronics
Project leader at IAVT/ZmP
Project period
05/2016 - 04/2018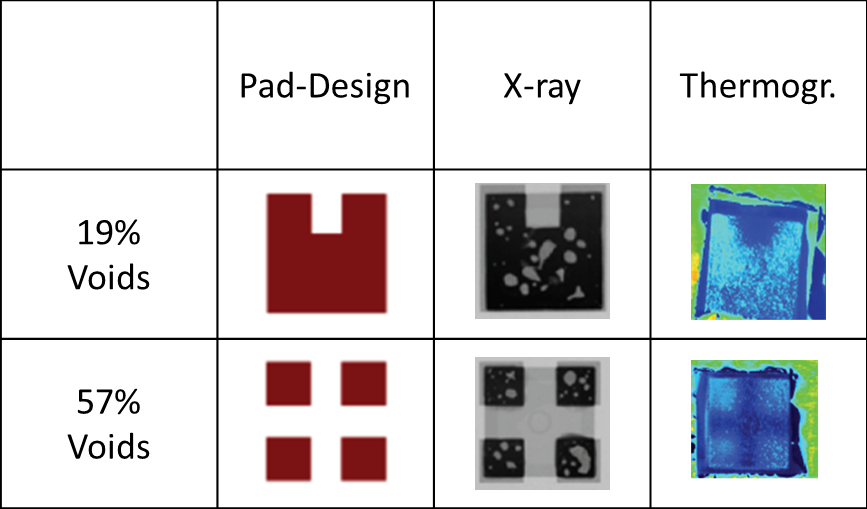 Main electronic modules indispensable for recent trends like e-mobility and regenerative energies are converters, engine control units and other power electronic modules. They contain bare power semiconductor dies out of silicon (Si) or silicon carbide (SiC) as main devices, which are mounted on the substrates using area solder joints or sintered interconnects. Fig. 1 shows such a device and a power electronic module made with it.
One challenge using those semiconductor devices is the quality control of the interconnection with the substrate. To realize those interconnections mainly soldering is used, but more and more also sintering.
The goal of the project is to develop a cheap and finally inline capable solution for a thermography system with few pixels, that can measure the temperature distribution after thermal excitation with high temperature and time resolution as an integral across the measurement field (e.g. defined parts of the die area of a power semiconductor). The test procedure is planned as a comparing measurement, so that within a short time period (thus inline capable) the thermal transient process of the specimen can be compared with that one of a "golden part", whose interconnection quality has been evaluated in detail using laboratory methods (X-ray-tomography, scanning acoustic microscopy) or destructive testing (metallographic preparation) in detail.

Project title
ESF Young Researchers Group "Communication infrastructres for Atto networks in 3D chip stacks"
Project leader at IAVT/ZmP
Scientific coordination
Dipl.-Ing.
Sebastian Lüngen
Phone:
(0351) 463 43790
Project period
09/2015 - 02/2019
Project partners
TU-Dresden, Faculty of Electrical and Computer Engineering:
Institute of Semiconductor Technology and Microsystems

Chair of Semiconductor Technology

Institute of Telecommunications

Chair of Radio Technology
Junior professorship of Integrated Photonic Devices
Vodafone chair of Mobile Communication Systems
Deutsche Telekom chair of Communication Networks

Institute of Electromechanical and Electronic Design
Institute for Fundamental Electrical Engineering and Electronics

Highly-Parallel VLSI-Systems and Neuromorphic Circuits
Chair for Circuit Design and Network Theory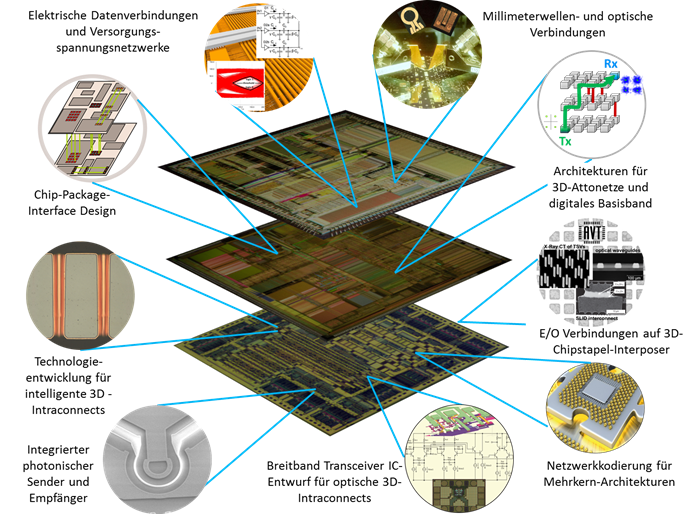 In the next 20 years, the continual miniaturization of electronics will reach its physical limits. Nowadays chips are manufactured in CMOS technology with structures less than 14 nm. The transistor geometries will decrease with further downscaling, reaching the size a few atom diameters. A promising solution is 3D-integration, the stacking of chips on top of each other. Hereby the die-stack becomes a "skyscraper" of electronics. For optimal technical usage, information must be transmit efficient through the whole die-stack. Therefore, it is necessary to analyze and develop a completely new communication infrastructure, which is both energy-efficient and resource saving.
This communication infrastructure enables a miniaturized internet within the chip-stack and therefore the young researcher scientist group calls it "3D-Atto-network".
The microelectronic, semiconductor and photovoltaic industry has a long tradition in the area of Dresden/Freiberg/Chemnitz. The topic of this young researcher group is one of the most important for the future information and communication technology industry in Saxony and Germany (see high tech industry of the German Confederation and the Free State of Saxony). The Saxony research and development cluster "Silicon Saxony", including around 300 companies and 40.0000 employees, which has recognized its importance, also supports it.
The 3D-Atto-networks that are based on 3D-integration will become a key technology for future products, innovative technologies and megatrends as Smart Cities, Smart Grids or Industry 4.0. Including for example the tactile internet and the 5G mobile phone standard launched in around 2022.

Project title
Collaborative Research Center (CRC) 912, "HAEC – Highly Adaptive Energy-Efficient Computing"
Project leader at IAVT/ZmP
Scientific coordination
Dr.-Ing.
Krzysztof Nieweglowski
Phone:
(0351) 463 35291
Project period
07/2015 - 06/2019
Project partners
All partners of the CRC belong to Technische Universität Dresden.
Faculty of Electrical and Computer Engineering:
Institute of Principles of Electrical and Electronic Engineering
Institute of Communications Technology
Institute of Electronic Packaging Technology
Faculty of Computer Science:
Institute of Computer Engineering
Institute of Systems Architecture
Institute of Software and Multimedia Technology
Institute of Theoretical Computer Science
Faculty of Natural Science, Mathematics Section
Institute of Numerical Mathematics

Center for Information Services and High Performance Computing (ZIH)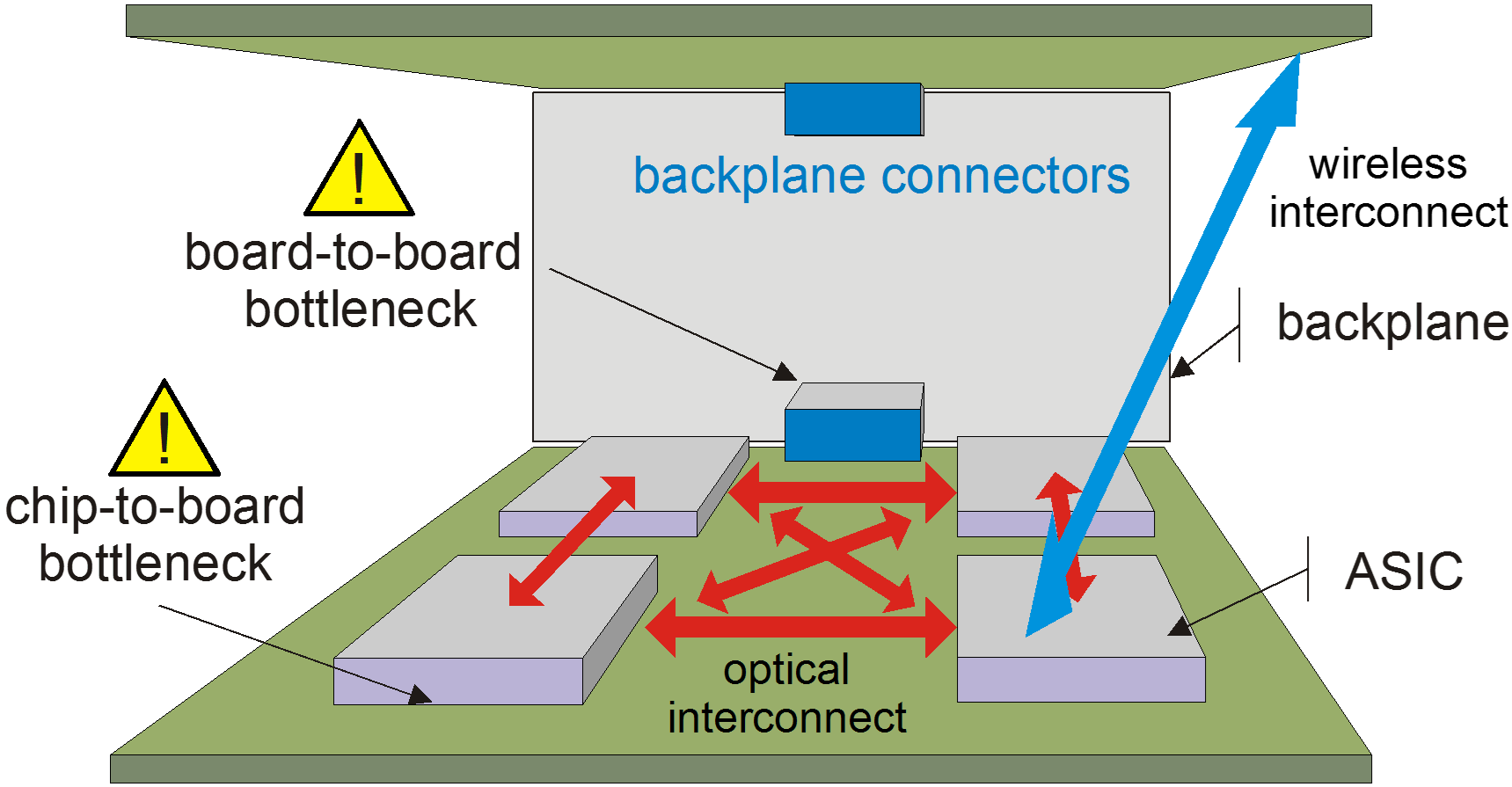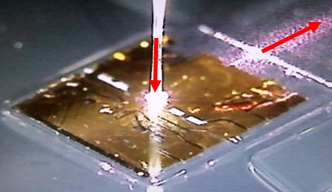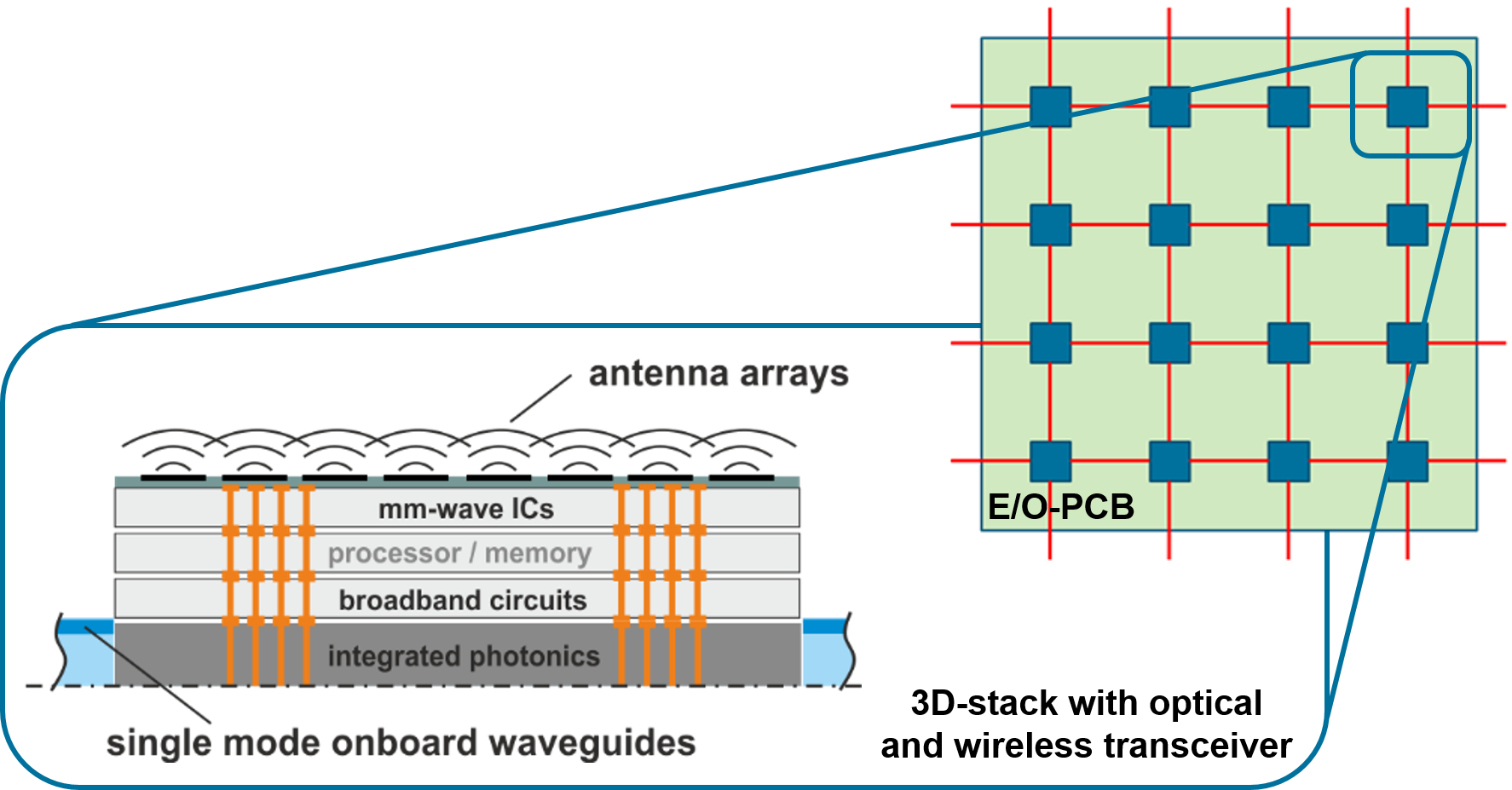 Sub-Project A10: System integration for optical and wireless Pbit/s communication in high performance computing
Addressing the increasing energy demand of global internet usage and the resulting ecological impact of it, the visionary goal of the collaborative research center HAEC ("Highly Adaptive Energy-Efficient Computing") is to research technologies to enable computing systems with high energy efficiency without compromising on high performance. To achieve the goal of an integrated approach of highly adaptive energy-efficient computing, the problem is approached at all levels of technology involved, the hardware, the computer architecture and operating system, the software modeling as well as the application modeling and runtime control levels. A novel concept (HAEC box) of how computers can be built by utilizing innovative ideas of optical and wireless chip-to-chip communications shall be explored. The HAEC collaborative research center is a first attempt to achieve high adaptivity and energy efficiency with an integrated approach.
In the CRC 912 the IAVT works on the project A10: System integration for optical and wireless Pbit/s communication in high performance computing. The main research focus of the project is the integration of components of communication transceivers into the high performance package. In the phase II following research areas are investigated: electro-optical integration on board- and package-level, packaging for mm-wave communication and embedding/integration of link components on the wafer-level.
Project title
Research Group for Photonic Packaging Technologies for Integrated Bus Systems
Project leader at IAVT/ZmP
Prof. Dr.-Ing. habil. Dr. h. c. mult.
Klaus-Jürgen Wolter
Phone:
(0351) 463 38625
Scientific coordination
Dipl.-Ing.
Lukas Lorenz
Phone:
(0351) 463 43767
Project period
01/2015 - 12/2017
Project partners
Friedrich-Alexander University Erlangen-Nuremberg (Chair of Factory Automation and Production Systems and Institute of Optics)
Leibniz University Hannover (Institute of Transport and Automation Technology)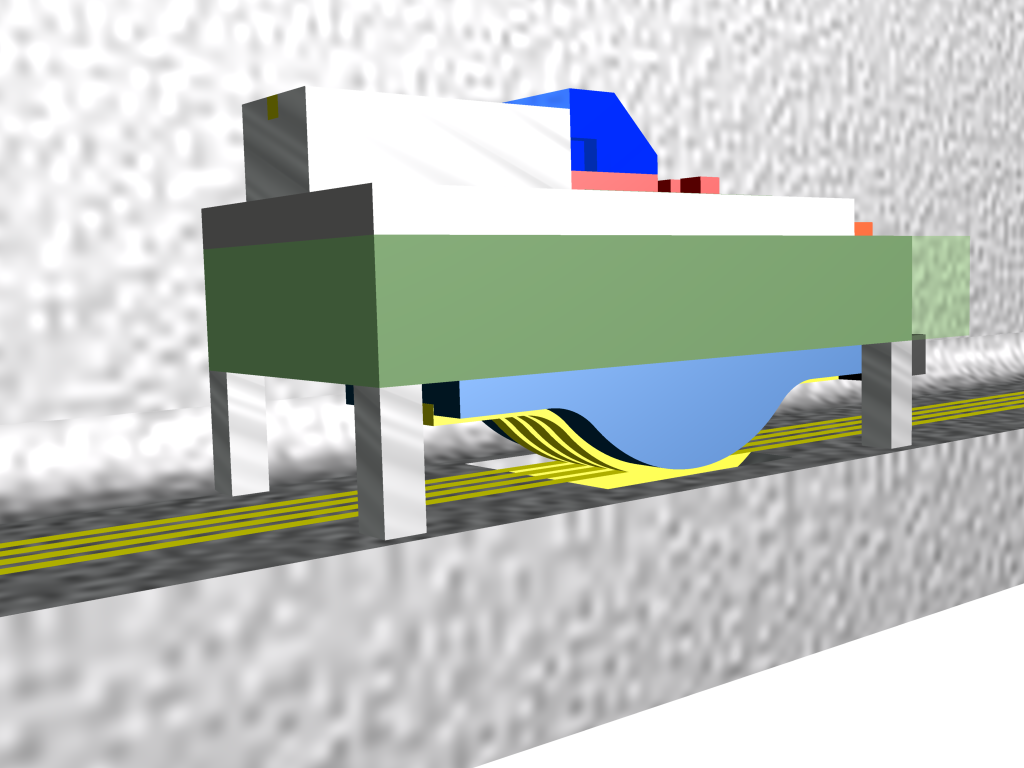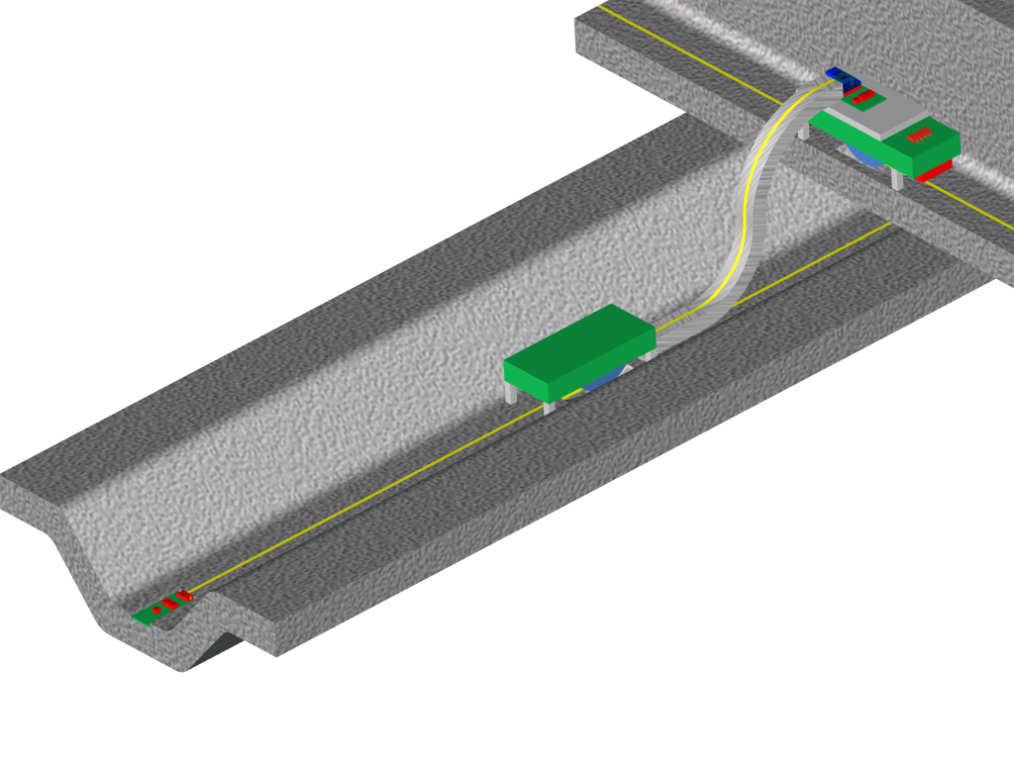 The potential of precise space-resolved strain measurements or the capacity to transmit very large amounts of data are two examples of the beneficial use of optical systems. Apart from the general advantages of the optical signal line, like as far as possible immunity to electromagnetic radiation, being non-sparking for the use in potentially explosive areas or the low weight compared to copper cables, modern technologies make use of the possibilities to integrate optical waveguides into structural components. Questions regarding the integration of optical waveguides into fiberglass composite components or into printed circuit boards are, among others, the subject of current research.
However, questions regarding the signal transfer at nods in photonic networks are still unsolved. There are possibilities of optical-electrical and electrical-optical signal conversion. Though an exclusively passive coupling of optical signals is currently subject to restrictions. This and other challenges of the optical assembly and interconnection technology are picked up by the dislocated research group.
The goal of the dislocated research group is to research methods and technologies for the design, construction and manufacturing of three-dimensional optically functionalized mechatronic components (3D-opto MID).