Centre for Technologies of Electronics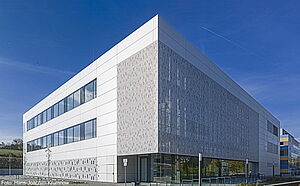 Since October 2013 (formally opening on December 2nd, 2013) the technological oriented professorships of the Faculty of Electrical Engineering and Information Technologies can do their scientific work based on excellent infrasructure conditions in a new lab building.
Lab Building
Overall floor space: 2.250 sqm
Lab space: 1.980 sqm, containing

690 sqm ISO 7
260 sqm ISO 6

User:

Institute of Electronic Packaging Technology
Center for Microtechnical Manufacturing
Institute of Solid State Electronics
Chair of Polymeric Microsystems of Institut of Seiconductor and Microsystems
The project was supported by the European Union.
Naming
During the formally opening ceremony on December 2nd, 2013, where also a symbolic key of the building has been handed over to TU Dresden, a naming of the building has been celebrated as well.
TU Dresden named this building after Prof. Werner Hartmann (1912 - 1988), the founder of microelectronics in Saxony.
The naming ceremony took place in the presence of the widow and the two daughters of the honoree.
Werner-Hartmann-Center
The involved professors of the new lab building committed to improve the interdisciplinary co-operation by introducing a common working group called Werner-Hartmann-Center.