Manufacturing, Assembling, Treatment
Printed Circuit Boards and Printing Masks
Services
Manufacturing of Herstellung von phot masters for PCB production
Manufacturing of one-sided, double-sided and multilayer PCBs (up to 6 layers) including through hole metallization
Manufacturing of copper printing masks by etching
Equipment
Equipment for manufacturing of PCBs and printing masks

Computer controlled mill-drill-plotter Bungard CCD, maximum rotation speed 60.000 rot./min, drilling diameter 0.3 - 4 mm
PCB brush engine, Bungard
Galvanic Compakta for tenting technology, Bungard, maximum workpiece size 300 mm x 400 mm
Etching machine, Bungard, copper-II-chloride
Stripper sodium hydroxide
Rigid resist laminators (Hot rol), Bungard

phot. etching resist 40 µm, width 300 mm
phot. solder mask 65 µm, width 400 mm

Exposurer, Bungard EXP 8000
Multi layer laminator MLP 20
Thick Film Technology
Services
Testing of new materials and development of technologies
Prototyping and manufacturing of examples
Characterization of thick film components and layer systems
Equipment
Mask preparation

photo plotter (Gerber format)
screens with emulsion (steel and polyester canvas, standard / fine)
copper masks (double sided etched)
steel masks (laser cut)

Laser technology

drilling of vias in ceramic substrates and polymer foils
cutting and scribing of outlines for panel separation
resistor trimming

Screen printing technology

MPM-SPM (with vision system)
EKRA X5 STS

Sintering technology

programmable batch furnace ATV PEO 603
zone furnace BTU up to 1100 °C

Possible technologies

CERMET thick film technology on Al2O3-ceramics
Low Temperature Cofired Ceramic Technology – LTCC
Polymer thick film technology on organic flex substrates
Prototyping and Module Assembly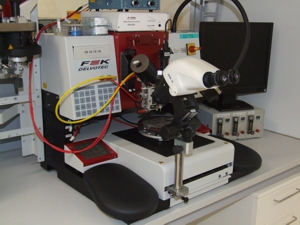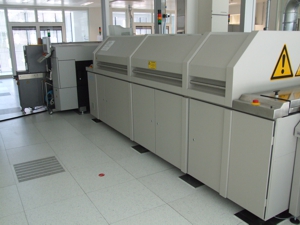 Services
Assembly of electronic modules, prefered in SMD technology
First- and second-level interconnect technologies
Equipment
Micro assembly:
Ultrasonic and thermosonic wire bonder F&K Delvotec 54xx and 56xx
Flip chip bonder
Fineplacer
Application of interconnect materials:
Mask printing equipment EKRA X3
Dispensing machine Martin
Placement of components:
SMD-assembling machine SIPLACE SX1
SMD-aasembling machine Fuji NXT-II
Places for manual assembly
Soldering technologies:
Convection reflow soldering equipment Rehm V8 2.1
Wave soldering equipment Seho GoWave
Vapor phase soldering equipment IBL
Rehm Condenso XM
Selective soldering equipment (light) ATN economic A400
Contact concerning micro assembling
Contact concerning prototyping
Contact concerning soldering technologies
Laser treatment of materials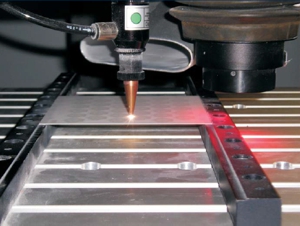 Services
Material treatment of ceramics and thin metal foils
Thick film resistor trimming
Drilling and cutting
Laser soldering
Laser micro welding
Equipment
3D-Micromac microCUTms10.6: CO2 laser, 200 W + fibre laser, power 20 W
Welding laser LSW 4001
Geometrical characterization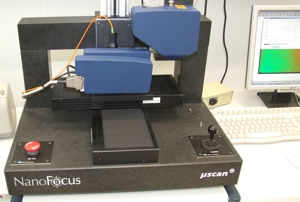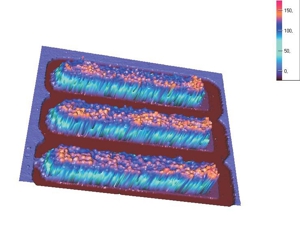 Services
contact-free topological measurement of surfaces
determination of roughness
volume calculation
needle-contact topoligical Measurement of surfaces
Equipment
Laser profilometer NanoFOCUS µScan AF2000
Measurement system NanoFOCUS µSurf
NanoFOCUS µSprint
MarSurf CP select
3D-coordinates measurement equipment PMC 500
Two-coordinates Measurement microscope ZKM 01-250C (Carl Zeiss)
Bruker DektakXTA
Dynamic Topography Measurement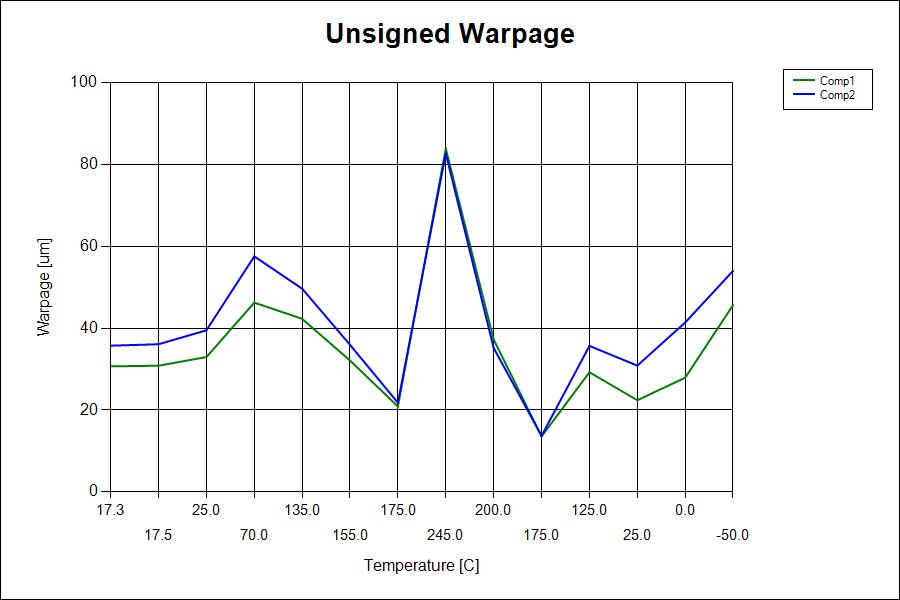 Services
Measurement of topography and deformation and its changing on flat objects under changing temperature conditions (e.g. simulation of soldering temperature profile up to 280°C, temperature cycles down to -50°C)
Sample objects:
bare Printed Circuit Boards
components (BGA, LGA, QFP, QFN)
Sample objects which need special preparation:
SMD connectors
assembled PCB
other objects on request (please deliver object pictures and dimensions before)
Equipment
Insidix TDM Compact II

Objects up to (300 x 200) mm2
Infrared heating (max. temperature gradient 3K/s)
Active cooling (max. temperature gradient -3K/s)
Temperature range: -50°C ... 300°C
Accuracy z-direction: 1,5 µm repeatabilityt
Resolution vs. measurement area (FOV = Field of View)

53 µm @ (195 x 155) mm²
31 µm @ (110 x 90) mm²
10 µm @ (37 x 30) mm²
3 µm @ (12 x 10) mm²
Physical characterization
Rheology
Services
Determination of rheological behaviour of pastes
Investigation of the influence of surface treatment, in example on the releasing behaviour of printing screens and masks
Equipment
Rheometer HAAKE RheoStress 600

VC Motor controlled

mimimum torque 0.5 µNm
angle resolution of 0.012 µrad

Peltier-tempered plate-conus-system
Measurement in three modes:

shear stress presetting (CS-mode)
rotation speed presetting (CR-mode)
deformation-controlled (CD-Modus)
Contact angle measurement
Services
Contact Angle measurement
Calculation of surface tension and surface energy of packaging materials
Statistical analysis and failure analysis
Equipment
Contact angle measurement equipment dataphysics OCA 20
Contact
Scanning acoustic microscopy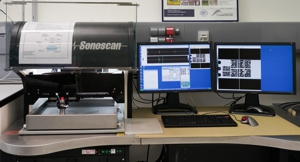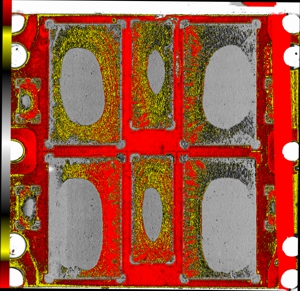 Service
Non-destructive inspection of prototypes and samples of packaged and unpackaged components, devices and substrates.
Layer by layer detection of failures like delaminations, gas inclusions, cracks and selective micro defects, especially of laminates, large area adhesions (e.g. heatsinks) and DCB substrates.
Run-time analysis to describe material inhomogeneity.
Ultrasonic scans are documented as files or color printed images.
Equipment
Ultrasonic microscope SONOSCAN C-SAM® Gen6™
Changeable transducers with the following frequencies and lateral resolutions:

10 MHz: 250 µm
15 MHz: 175 µm
20 MHz: 125 µm
30 MHz: 75 µm
50 MHz: 50 µm
60 MHz: 30 µm
100 MHz: 25 µm
230 MHz: 10 µm

Investigation depth up to some millimeters depending on the frequency and the material
Investigation methods C-Scan, Q-BAM™, THRU-Scan™
VRM™ (complete storage of echo signals of the specimen), regenerating of defect images of any layer, extraction of three-dimensional information, run-time topography
Coupling medium: de-ionised water
X-ray diagnostics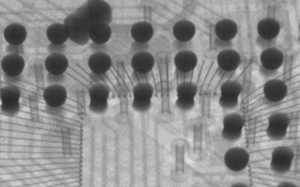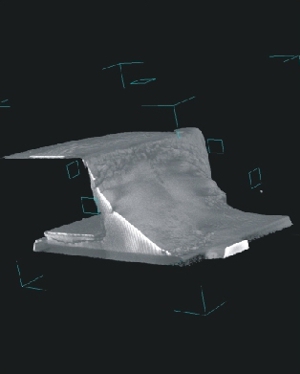 X-ray radiography
Service
Equipment
Non-destructive inspection of electronic devices and modules, especially with high contrastive materials (solder, metallisation), e.g.:

Standard- and fine-pitch-SMT and THT solder joints
BGA-, COB-, CSP- and Flip-Chip solder joints
Missing and imperfect solder joints
Displacement
Shorts
Solder joint analysis (voids)
Multilayer PCB

X-ray microscope phoenix|x-ray nanome|x

high resolution vertical or oblique view up to 70°
high resolution real time image processing or alternatively digital detector
CCD camera: 1126 x 1600 pixel, resolution 12 bit
Digital detector: 1000 x 1000 pixel, resolution 14 bit
geometrical magnification: > 1.000 times
minimal detail visibility: 400nm
X-ray Computer Tomography
Services
Volume analysis and reconstruction of electronic devices and modules
Equipment
X-ray Computer Tomography equipment nanotom

open nanofocus tube with tungsten target
acceleration voltage: 10 – 180kV / 15W
beam current: 5 – 1.000µA
precision manipulation on a granit base
high resolution digital detector with 2.400 x 2.400 Pixel, 12 bit
pixel size: 50µm x 50µm
minimal voxel size: < (500nm x 500nm x 500nm)
geometric magnification: 1,7-times to 1.000-times
maximal specimen size/ weight: h = 150mm, d = 120mm, m = 1kg
Metallographic preparation of packages
Services
Preparation of a target layer
Analysis of microstructures, cracks, delaminations and voids (e.g. for packaging qualification after thermal-mechanical stress)
Measurement of structure size, like intermetallics, lengths, layer thicknesses
Documentation and reporting of the results
Equipment
Grinding and polishing: TegraSystem (TegraForce-5, TegraPol-35)
Precision sectioning saws: IsoMet 1000 (bis 1000 RPM), Accutom-2 (3000 RPM)
Microscopy: Leica DM4000 M (max. magnification 1000x) and digital camera (2080x1544 pixel)

Reflected light methods: bright field, dark field, polarized light, differential
interference contrast

Database image management system
Storage testing, accelerated aging
Service
Temperature profile detection
Off-line measurement
On-line measurement

Zero-Ohms resistance measurement
Failure detection with defined shut down of cycle chambers
Voltage measurement
Equipment
Temperature test chamber

Single chamber system Feutron TPK 600
Temperature range: -70 °C to 180 °C
Temperature gradient: 10K/min (-55 °C to 150 °C)

Power cycle chamber

Two chamber system Feutron TSK 200
Hot chamber: 10 °C to 200 °C
Cold chamber: -75 °C to 180 °C

Zerol-Ohm measurement system

Four-point resistance measurement

Software controlled
Temperature triggered

Keithley-Delta-Mode System

Nano volt meter Keithley Modell 2182A
Current source Keithley Modell 6121

128 channel multiplexer
Voltage measurement

Isothermal storage

Temperature range: -80 °C to 300 °C
Note
Additional information about equipment and services and how you can use it can be found following the links below: